InflataFENCE
PORTABLE . SOLID . HEAVY-DUTY . EASY TO INSTALL INFLATABLE FENCE MADE FOR CARAVANS . CAMPERVANS . MOTORHOMES
Big Sky Innovations' InflataFENCE is a one-of-a-kind inflatable enclosure that's been designed for camping, caravan and campervan enthusiasts, seeking a temporary fence to contain their property, small pets whilst onsite. Created in Australia for the Aussie outdoors!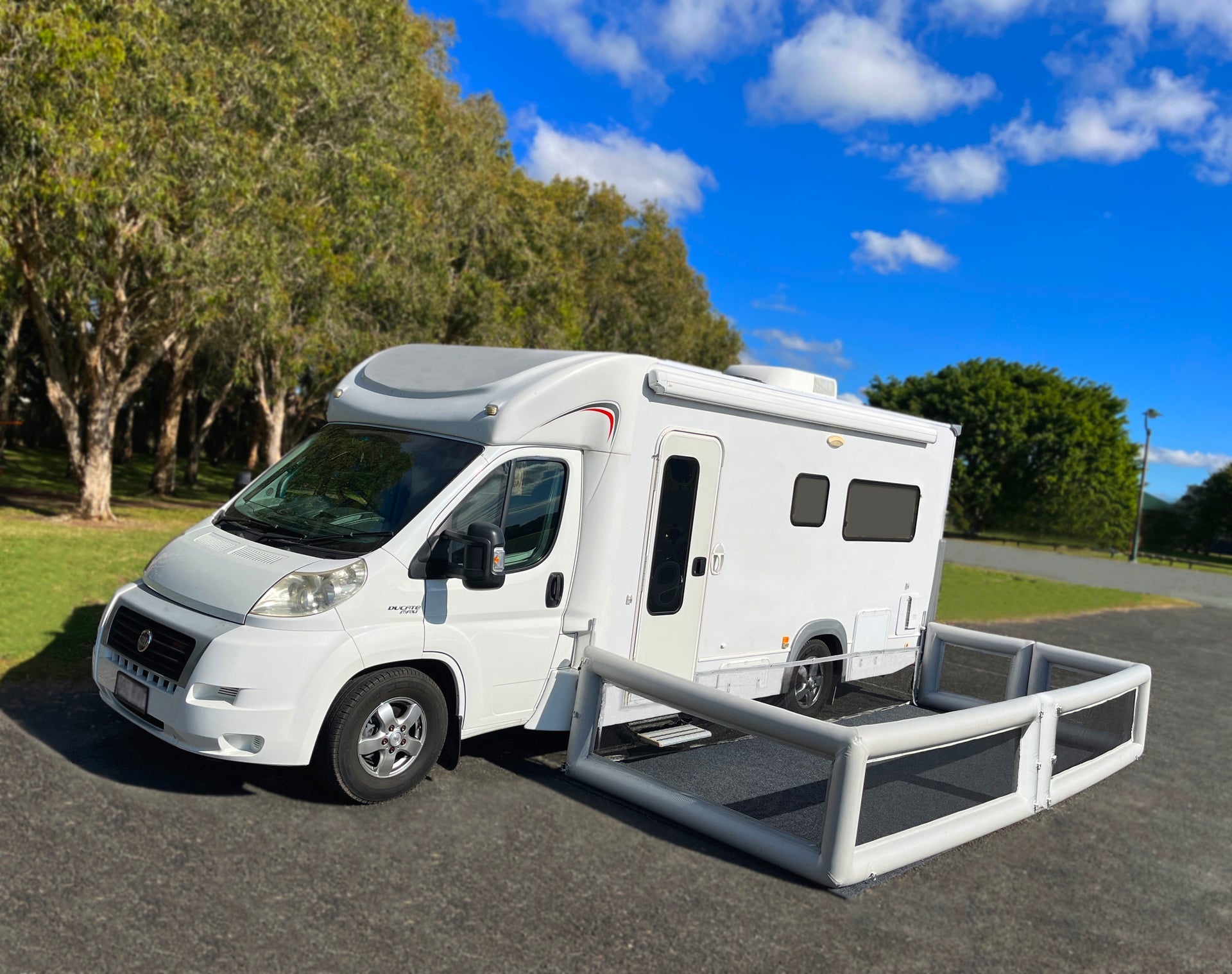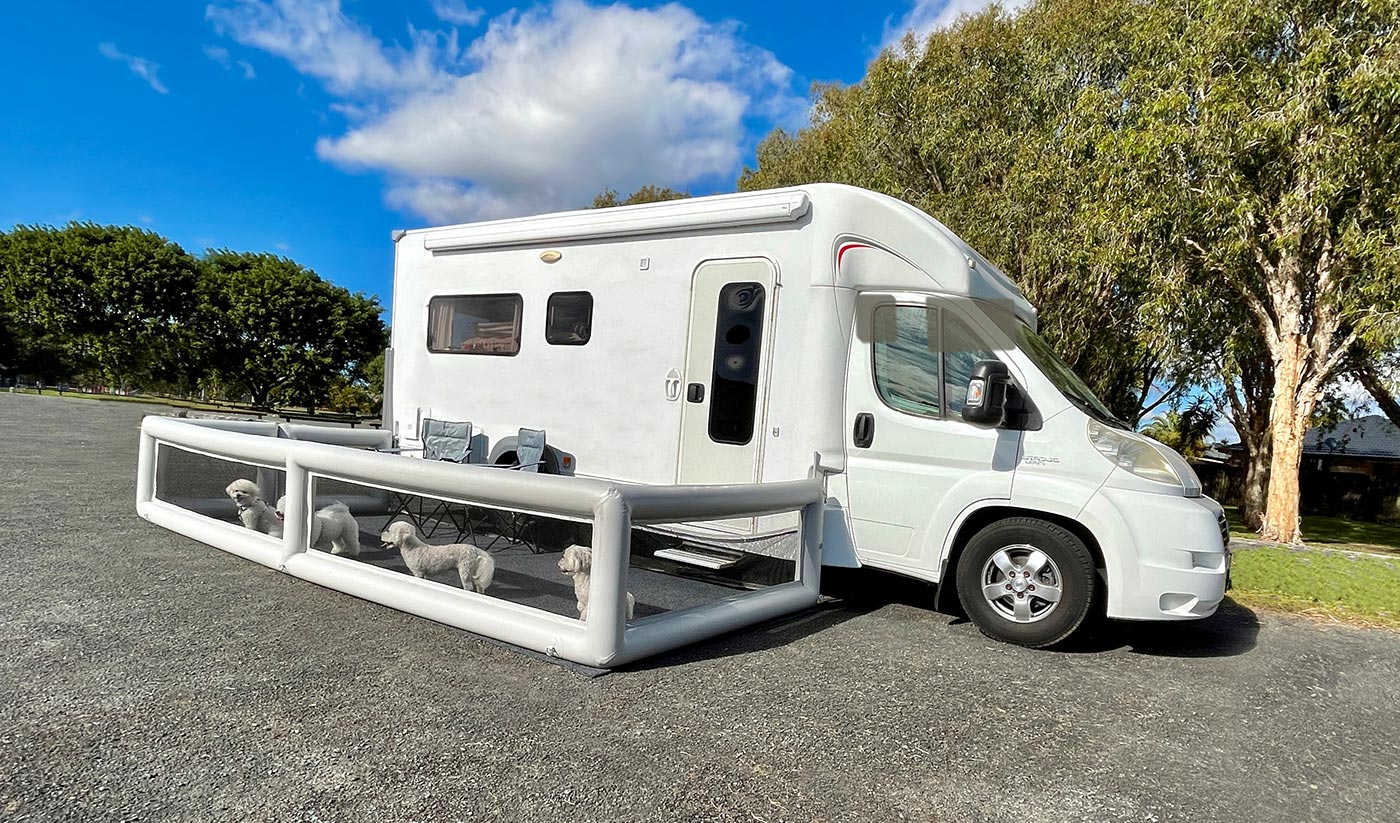 Your inflatable solid barrier
In line with our acclaimed Inflatable Pontoons, the InflataFENCE has been finely engineered with the highest quality materials, coupled with crucial measured dimensions to create safety, stability, durability, ease of transportation and simple installation for the user. When fully inflated and assembled, the InflataFENCE provides an extremely solid barrier. We do not compromise when it comes to quality. The raw materials used are most durable, high-quality, non-toxic and UV resistant.
Durability & Quality
The InflataFENCE is a modular system which can be easily adapted to suit different lengths of a caravan, campervan or motorhome.
Perfect for containing your property, pets in the outdoors
HARD as timber when fully inflated
Base Models start from 4mtrs x 2mtrs x 0.8mtrs High or 1.2mtrs High
Includes accessories to attach to van / motorhome
Built-in anchor lugs for pegging / tying
Easy to enter/exit via swing gate
Option to add panels for expansion
Made with non-toxic, UV protected, heavy-duty PVC
2 mins to inflate / deflate
Light & easy to store when deflated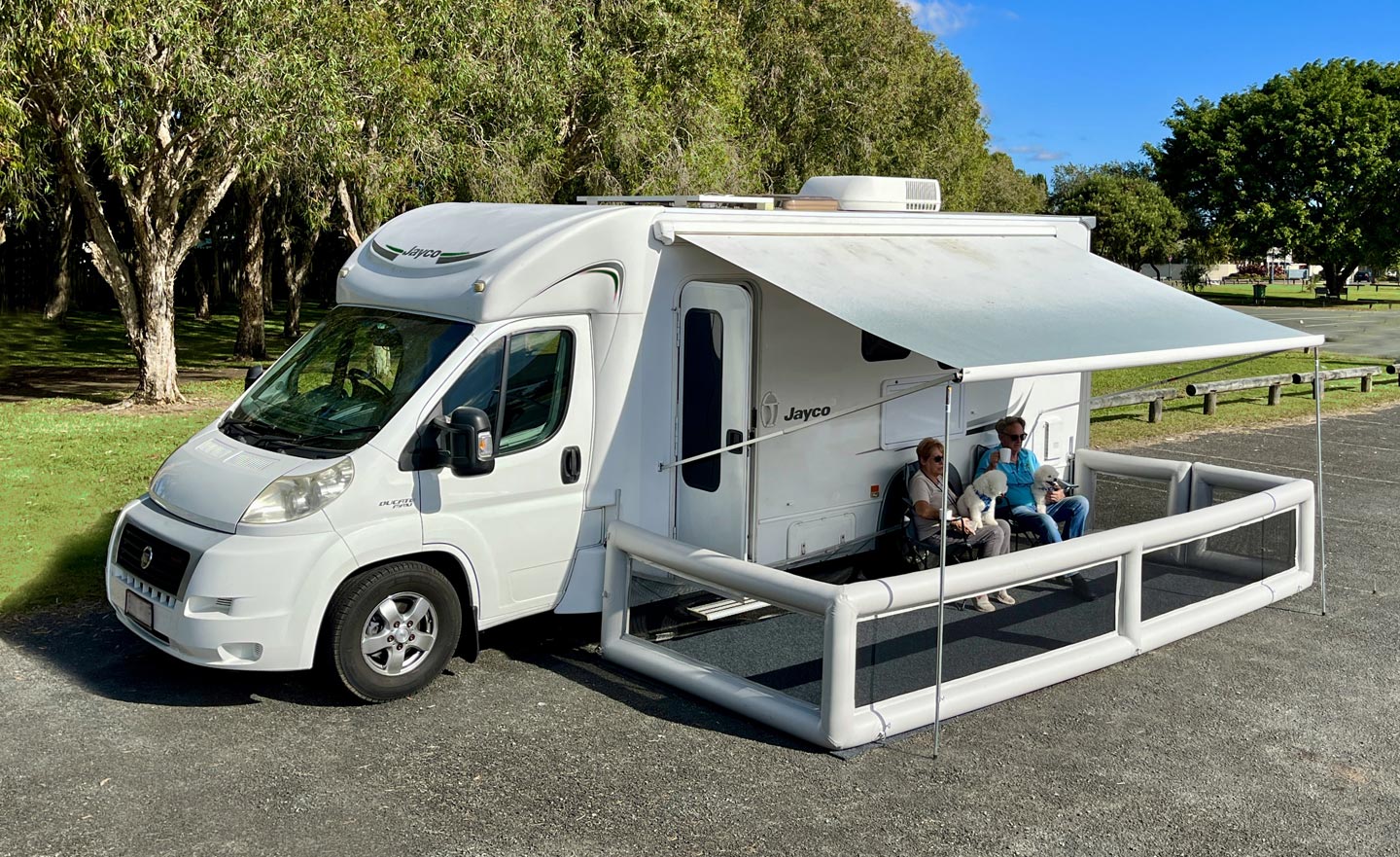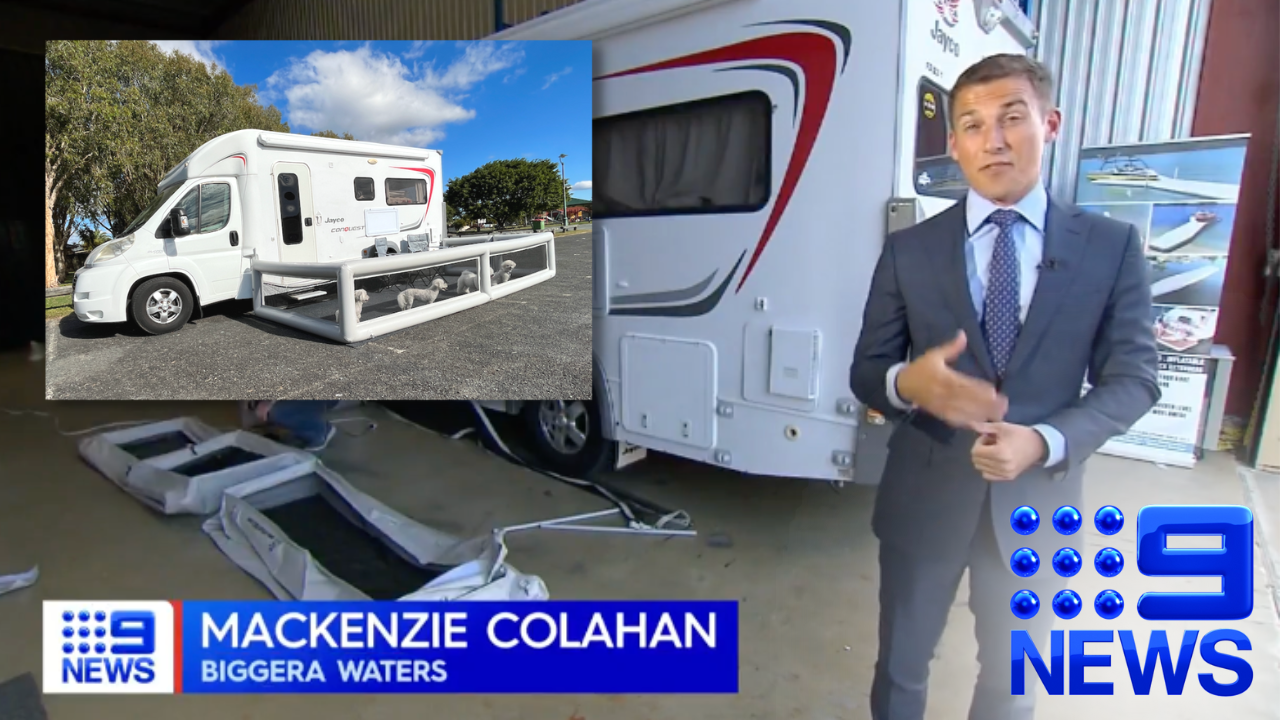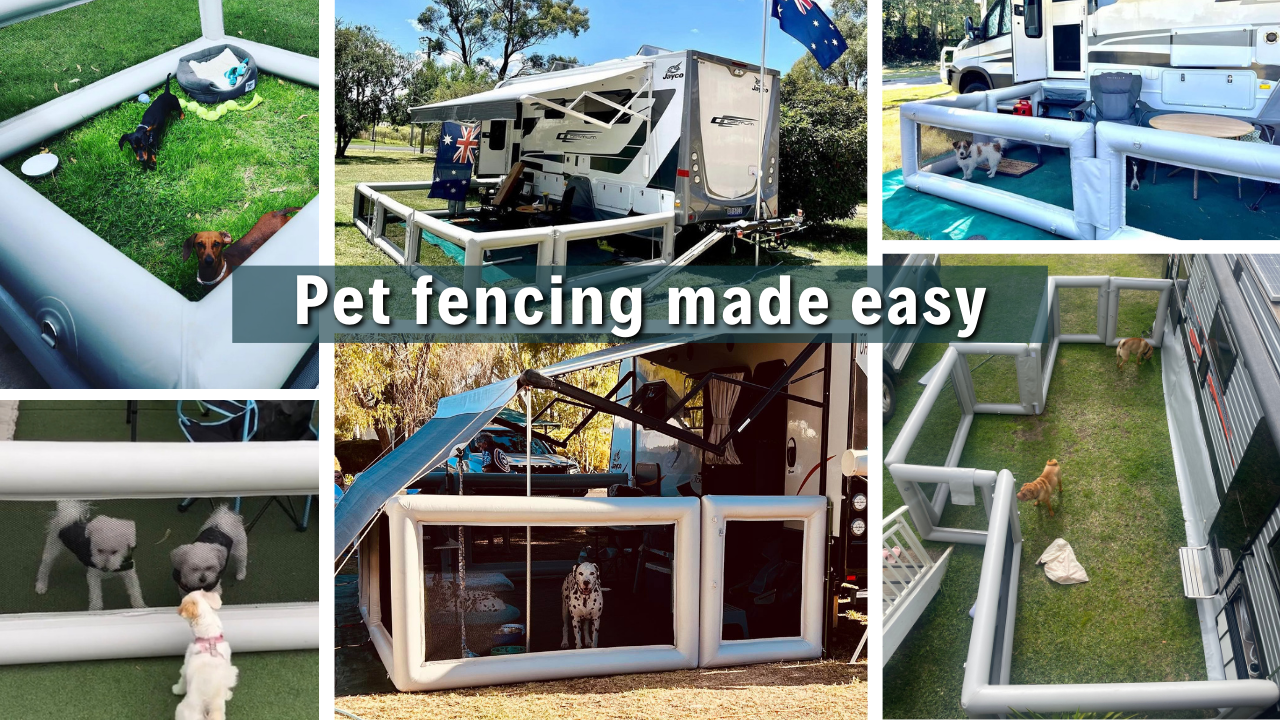 InflataFENCE Caravan & Motorhome Kits
All Van kits include: Fence Model, 800mm High Mesh Skirt, Van Attachment Kit, 240volt Pump, Carry Bag, Repair Kit. All Prices are INCLUSIVE of GST, but EXCLUDING delivery.
Pioneers of the Inflatable Pontoon

One advantage of living in Queensland is the abundance of gorgeous waterways, dams, and lakes. Gavin and Lydia always looked forward to their excursions but, like all boaties, experienced minor annoyances.

Lydia explains, "We love boating, but getting through the mud was unpleasant, and there's potential hull damage when near the shore."

Soon, Gavin was carrying her, then other family members and friends. "It was partly to be nice and partly to make cleaning the boat easier," he jokes. "But eventually, it became a little annoying."

The obvious answer was to buy a portable platform, but the couple found nothing that answered their needs. So, they decided to make one.

After years of R&D, they found the perfect formula. Finally, in 2013, they launched Big Sky Innovations (BSI) and their first pontoon. Made from PVC horsehair material, it was sturdy and easy to install, taking just 3-4 minutes to inflate and assemble.

They took their pontoon out to the lakes, and it was an instant hit. "We had massive interest from the boating community just from using it, and everything grew from there."

With Lydia doing the marketing and Gavin designing, BSI took off. Demand increased, and soon there were requests for different designs. "People liked the convenience of the pontoon, so we started to make shapes for different needs," Gavin says. "We currently have five types of inflatable pontoons from straight walkways to extendable decks, with more on the way."

BSI soon gained considerable media attention and increased demand from the boating community and others who saw numerous innovative uses for custom-designed pontoons. Soon their designs were used by Olympic Swimming Pools, NSW Wakeboard Association, Polo Australia, and the Great Barrier Reef restoration project.

Gavin and Lydia's passion for the outdoors and problem-solving didn't stop there. Now the technology for inflatables had been perfected, they shifted attention to a new issue - this time, on land.

"We love caravanning with our dogs, but pets need to be safely contained. This means tangled leads or heavy, cumbersome fences. We knew our pontoons' technology was ideal, and this led to InflataFENCE."

InflataFENCE uses the same high-grade materials as their world-renowned Inflatable Pontoons to create an enclosure that inflates in minutes and securely fits vans and motorhomes - safely containing pets. It's as hard as timber, weighs 14kg, and comes in a gym-sized bag for easy storage.

"The response has been incredible. Owners and their pets love the durability, ease, and freedom of the InflataFENCE," the couple says.

"It has been amazing how adaptable our inflatable technology can be - we can't wait to find more problems to solve."


Happy Customers Worldwide
Trusted by Avid Boaties and Campers Globally from Australia, USA, Germany and Asia
Industry credibility
Choosen Suppliers to Boating, Sporting Associations, Marine Researches and Camping Enthusiests
Celebrating 10 Years
The Team At Big Sky Innovations Have 10 Years Of Knowledge and Experience To Assist You